Fire suppression system with CO2 – Carbon dioxide
Fixed fire suppression system that uses Carbon Dioxide (CO2) as an extinguishing agent is exclusively indicated for places without human presence or circulation, as it reduces the spread of flames due to its effect of absorbing oxygen in the environment.
Carbon Dioxide / CO2 is characterized as an odorless, colorless, anti-corrosive, electrically nonconductive and residue-free fire suppression gas.
Fixed fire suppression system with CO2 designed and installed by SMH SISTEMAS uses certified gas and equipment LPCB, VDS, CE, AENOR and IPT.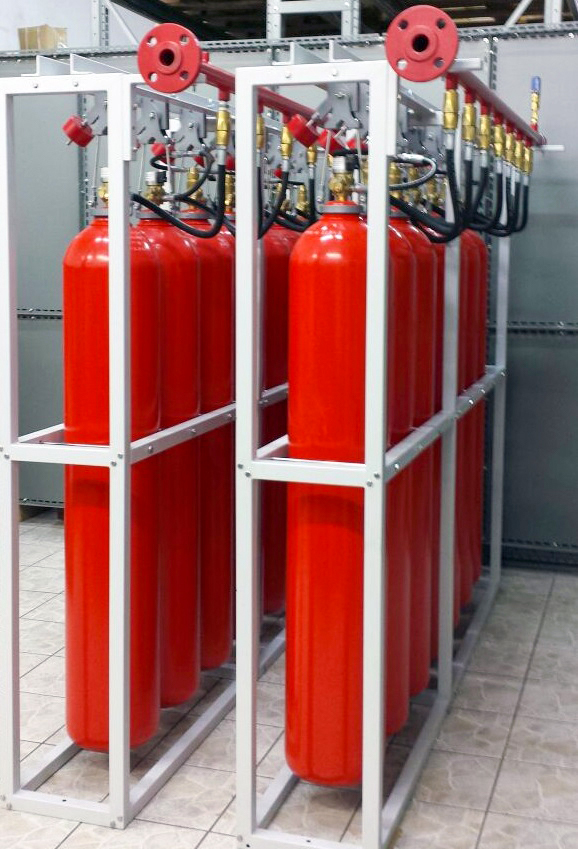 Typical Applications of Fixed Fire Suppression System with Carbon Dioxide (CO2)
Total flooding to environments not occupied by people due to its oxygen absorption effect.
Local application, in high risk points of fire, with the application of directional valves, that is, a single battery of cylinders installed in a barrel equipped with directional valves that will lead the extinguishing agent to the accident site.
Protection of industrial kitchen exhaust system ducts.
Operation of the Fixed Fire Suppression System with Carbon Dioxide (CO2)
Fixed fire suppression system with CO2 consists of cylinders that store 45 kg of carbon dioxide.
The infrastructure of the fire suppression system is built with SCH40 and SCH80 piping provided with a high pressure connection with NPT thread.
Storage pressure in the cylinder is 60 bar.
The cylinders are actuated by a solenoid valve and other accessories and the automation of the fire suppression cylinders is carried out through the addressable or conventional fire detection system.
SMH Sistemas® serves the entire national territory with its own highly specialized team.