Fire suppression system with LGE FIRE DOS®
The foam generator liquid – LGE FIRE DOS® is a synthetic foam concentrate that acts as a kind of detergent to fight class A and B fires, especially in hydrocarbons and polar solventes.
LGE FIRE DOS® acts on the surface of the ignited liquid, forming a protection that prevents the passage of high temperature gases, preventing air contact with the flammable substance.
LGE FIRE DOS® can be mixed with fresh or brackish water and used in equipment with or ithout air intake.
SMH SISTEMAS prepares specific projects for fire protection taking into account the various risks for new systems or retrofit of existing installations and, based on the developed project, provides very high quality equipment certified by UL, FM, LPCB, CE, VDS and AENOR.
Fire protection systems with LGE FIRE DOS® designed and installed by SMH SISTEMAS fully comply with the standards of ABNT – Brazilian Association of Technical Standards, NFPA – National Fire Protection Association and Technical Instructions of the Fire Department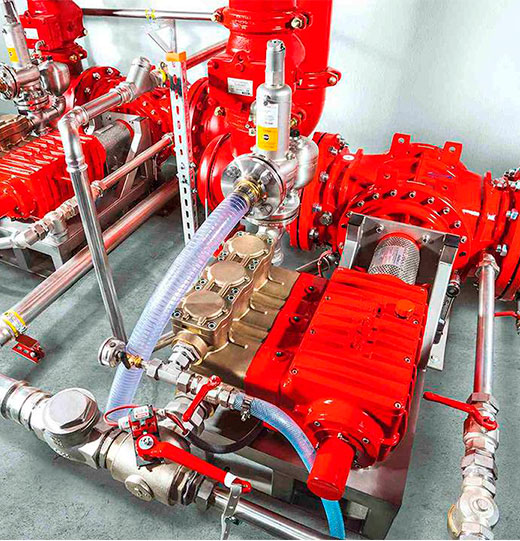 Benefits of the Fire Suppression System with LGE FIRE DOS®
LGE FIRE DOS ® is biodegradable and non-toxic, resistant to high temperatures and has a long service life.
It acts effectively on the surface of the ignited liquid, creating a protective barrier, preventing heated gases from dissipating.
It has low density and expansion, being able to bypass objects and obstacles and float over flammable liquids.
Typical Applications of LGE FIRE DOS®
LGE FIRE DOS ® system has high power and must be installed in strategic locations in risk areas such as dams, fuel tanks, warehouses, airplane hangars, etc.
SMH Sistemas® serves the entire national territory with its own highly specialized team.