Pre-engineered fire protection system
SMH SISTEMAS Pre-engineered fire protection system – Compact Fire System is an integrated fire suppression system that uses clean agents / gases HFC-227 / FM-200, HFC-125 / FE-25, Fluid FK 5-1-12 or Fluid 3M®Novec 1230® for fire fighting.
The system is compact, simple and quick to install, and with minimal connected remote devices. It consists of the cylinder loaded with the clean agent, pre-wired and programmed clean agent release control panel, electric actuator, audible and visual alarm, activation (release) and blocking (abortion) devices, service key to deactivate the clean agent / gas release control panel for any maintenance in the protected environment or in the automatic fire suppression system itself
Pre-engineered Fire System Components:
Cylinder loaded with clean agent, fitted with a valve with pressure gauge and pressure supervisor switch, 24 Vdc solenoid and manual actuator.
Cylinder fixing clamp.
Aluminum diffuser (pre-sized), 180 or 360 degrees.
Control panel with 3 automatic extinguishing zones to release the clean agent / gas.
2 battery units.
2 Detectors (optical or thermal), 24 Vdc with base.
Bitonal audio and visual siren, 24 Vdc.
Auxiliary metal rack for fixing the cylinder set, fire alarm central, locking (abortion) and triggering (release) key devices, audiovisual signals and other accessories.
Pre-sized tubing and connections.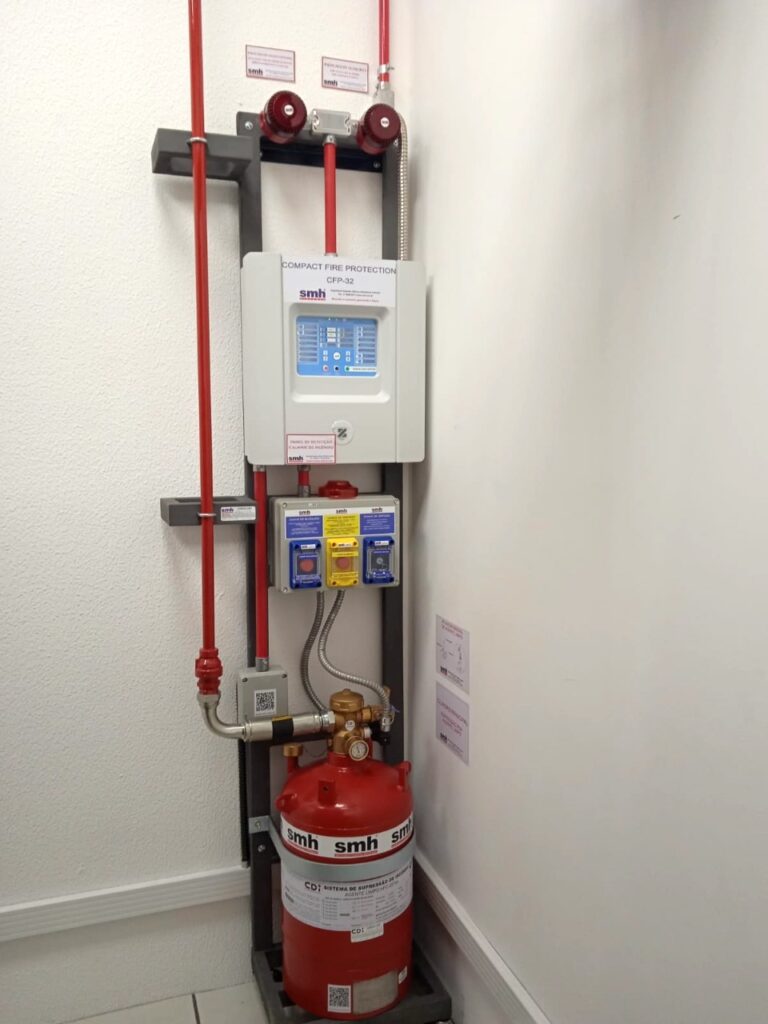 Benefits of Pre-engineered Fire Protection System:
Simple and quick installation.
No need for piping infrastructure.
Compact system, doesn't need a lot of space.
It has standard low voltage connection for control circuits.
Available in pre-sized or designed versions.
Pre-engineered Fire Protection System Applications:
Data centers built in metallic shelters (containers) or masonry, control rooms, internet providers, clean rooms, generator rooms, machine testing rooms, surgical centers, cultural collections, etc.
Volumes served:
Pre-engineered system is suitable for fire protection of the following volumes:
Kit model CDI22710032E ≈ 30m³ to 46 m³
Kit model CDI22710052E ≈ 46m³ to 80 m³
SMH Sistemas® serves the entire national territory with its own highly specialized team.