Projects for Fire Protection
With a highly knowledgeable technical staff and vast experience in fire proteton engineering, the technical projects developed by our team enable the implementation of safe fire protection systems with the best cost-benefit ratio.
We prioritize ecologically correct alternatives and offer innovative and effective solutions in fire prevention and fire suppression systems from the moment the project is prepared, in accordance with current national and international standards.
For the implementation of fire protection, risk analysis, technical feasibility studies and preparation of executive projects in accordance with current standards are required: ABNT – Brazilian Association of Technical Standards / NBR's – Brazilian Standards and NFPA International Technical Standards Set – National Fire Protection Association.
The executive projects will cover:
Preventive systems: composed of electronic fire detection, fire alarm systems and the high sensitivity smoke detection systems Vesda ASD / HSSD
Fixed fire suppression systems with application of gases (chemical and inert agents) and hydraulic systems (sprinklers, water spray, water mist or hydrants).
Passive Protection: vertical and horizontal compartmentation with fire seal and firestop.
Preventive, corrective maintenance and technical assistance for fire protection systems
Periodic maintenance ensures the effectiveness of existing fire protection systems: detection, alarm and automatic fire suppression.
Maintenance of fire Protection systems are essential to ensure that the response of the detection, alarm and automatic suppression systems occurs properly: generating alarms and allowing the safe evacuation of users from buildings, suppressing the principle of fire and preserving lives, data, equipment, connectivity and continuity of operations in any situation, which avoids the loss of human life and financial losses caused by a fire.
During pre-scheduled visits, our technical team performs complete equipment verification, tests, performance analysis and real operation simulations.
At the end of the inspection, periodic reports, ART and a certificate are issued for presentation to the fire department, city halls, insurance companies among others, in accordance with current standards and requirements.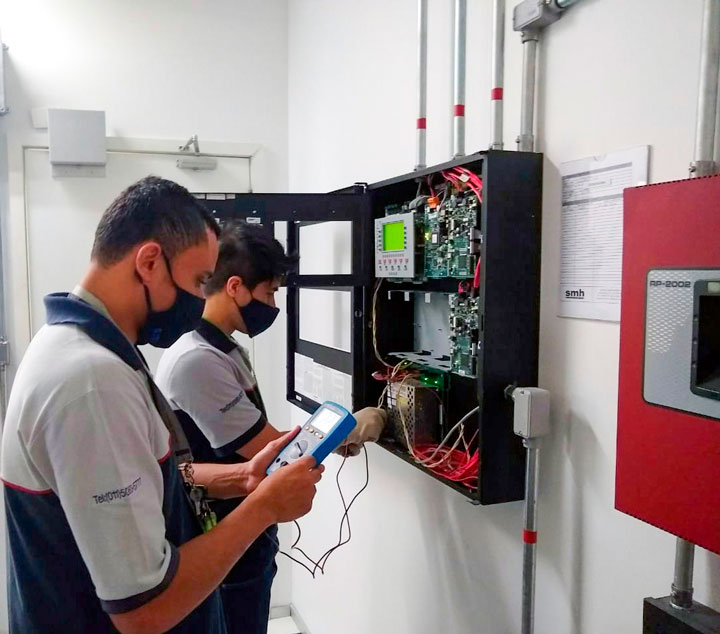 SMH SISTEMAS provides its customers with full support, remote and local service, 24 hours a day, 7 days a week, in the form of personalized periodic preventive maintenance contracts for detection, alarm, fire suppression systems by clean agents, sprinklers and hydrants.
We carry out preventive, corrective and retrofit maintenance of fire protection systems installed by SMH SISTEMAS or by other companies in the sector, through contracts with defined periodicity or occasional calls.
Main benefits:
Service provided by SMH SISTEMAS' own and qualified team.

Remote or local service.

Customized periodic preventive maintenance contracts for detection, alarm, fire suppression systems by clean agents, sprinklers and hydrants.

Complete verification of all equipment, tests, performance analysis and real operating simulations.

Exclusive Internet portal for maintenance management, with an area for opening calls and online emergencies.

APP to fill in the visit reports through computers and smartphones.

Issuance of periodic reports, as established by the NFPA – National Fire Protection Association, Technical Instructions of the Local Fire Department and National and International Insurance Companies.
Fire Suppression Gas Recharge Station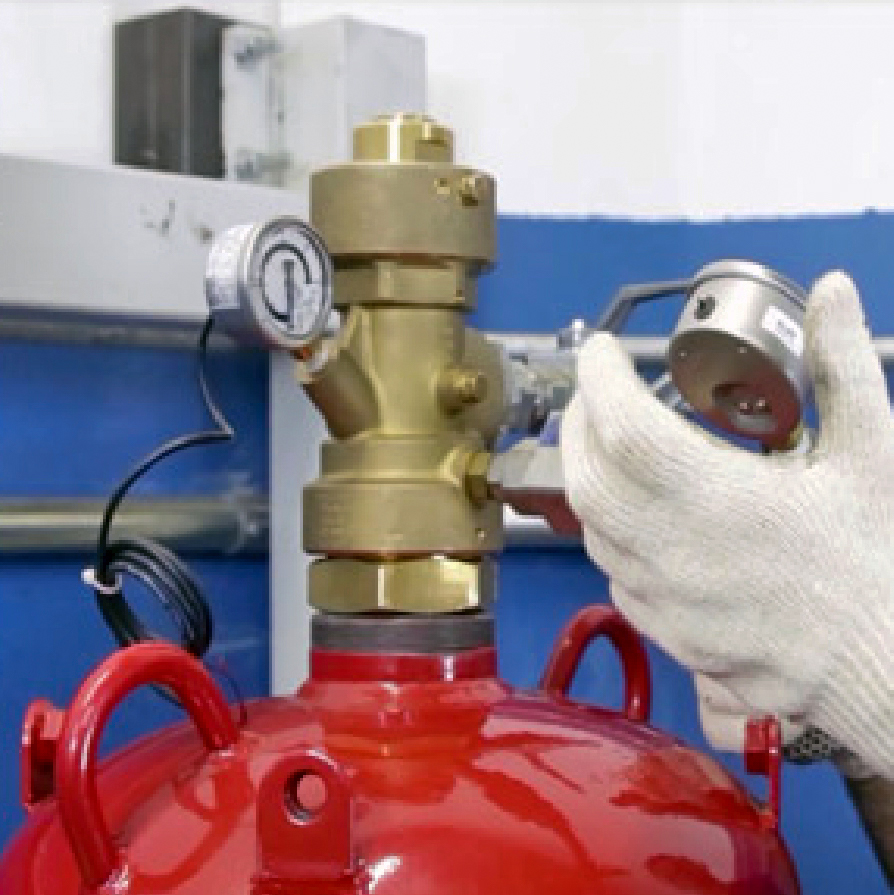 SMH SISTEMAS fire suppression gas recharging station is located in São Paulo and was designed to fully comply with national and international standards:
NFPA 2001 – Clean Agent Fire Extinguishing Systems
ISO-14520 – Gaseous Fire Extinguishing Systems
NR-13 – Boilers and Pressure Vessels
NBR 15417 – Pressure Vessels – Safety Inspection in Service.
NBR 222 – Compressed Air Installations Safety.
SMH SISTEMAS maintains a large stock of chemical and inert agents: HFC-227 / FM200, HFC-125 / FE-25, FK 5-1-12 Fluid / 3M®Novec 1230® Fluid, IG-541 / Inergen, CO2 enough to promptly meet the demands of the Brazilian market. We provide our customers with an agile logistical structure for the removal, transport, testing, recharging of cylinders and installation on the protected site.
The recharging service of the cylinders carried out at the SMH SISTEMAS station guarantees the quick return of the system to normal operation and the effectiveness of fixed fire suppression systems, minimizing exposure to an accident in protected areas.
The services provided at the SMH SISTEMAS charging and filling station include:
Extinguishing agent / gas lock for properly packaged bucks at room temperature so as not to compromise the extinguishing property and not contaminate the clean agent / gas that is 99% clean and free of impurities.

Disassembly of the valve and its components.

Internal checks using a suitable probe to assess the internal condition of the cylinder/vessel under pressure (corrosion).

Carrying out the hydrostatic test with application of pressure 1.5 (one and a half times) of its working pressure (PMT) as recommended in NFPA 2001/18 and NR13.

Internal and external cleaning of cylinders and application of new paint, when necessary.

Maintenance of electromechanical valves with replacement of the oring rings.
Maintenance of manual and pneumatic actuators, solenoid valves and other components of the activation system of each cylinder.

Tightness test with application of N2 (99% purity) X 1.5 at PMT to investigate possible microleakage with the use of a probe.

Refill cylinder with clean agent / gas @ 24 bar (360 PSI) pressure.

Analysis and monitoring of internal pressure for 36 hours on our site at room temperature to check for microleakage.

Delivery logistics and installation of the cylinder at the customer's site.

Issuance of technical report of the filling, certificate of technical responsibility of the responsible engineer, certificate of origin of the gas used and UL /FM or UL certificate.
Our technical team is trained and certified to carry out the procedures for removing and reinstalling cylinders, inspecting, testing and maintaining components from various national and international manufacturers operating in the Brazilian market.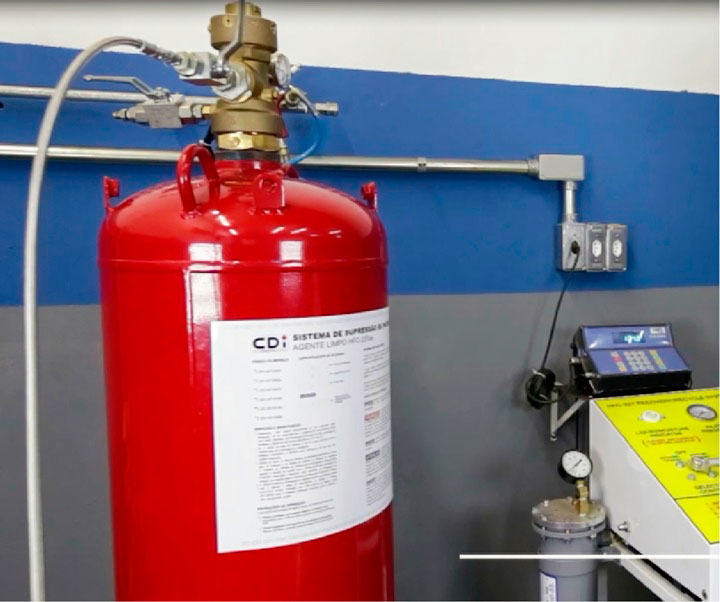 Tightness Test (Door Fan Test)
The performance of the tightness test / Door Fan Test ensures the effectiveness of fixed fire suppression systems with gaseous agents HFC-227 / FM-200, HFC-125 / FE 25, Fluid FK 5-1-12 / Fluid 3M® Novec 1230®, IG-541 / Inergen or CO2.
For the efficiency of fixed fire suppression systems that use gaseous agents, the protected environment must be tight, that is, without openings through which the gas can exit, reducing the concentration of the agent to a quantity lower than that necessary for the extinction of the fire.
In accordance with the NFPA 2001 standard, Clean Agent Extinguishing Systems, the tightness test is mandatory after the completion of a fixed fire suppression system installation with gaseous agents, and must be repeated every year or in case of structural changes that create new openings through which the extinguishing agent may leak.
The tightness test / Door Fan Test is carried out using a software that allows the issuance of reports, management, direct and accurate reading of the pressure and measurement of the ambient flow, as required by NFPA 2001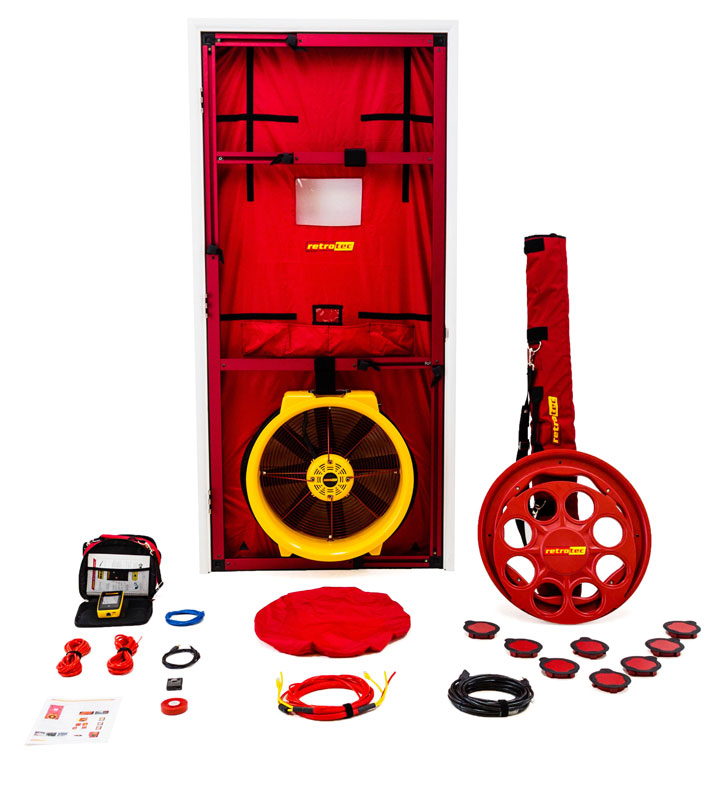 The leak test / Door Fan Test verifies the leak tightness of the environment, indicates the leakage points and calculates, if necessary, the correction of the load of the gaseous agent (HFC-227 / FM-200, HFC-125 / FE-25, Fluid FK 5-1-12 / 3M®Novec 1230® fluid, IG541 / Inergen or CO2). SMH SISTEMAS issues a technical report for all the tightness tests performed.
The lack of tightness of the protected environment will influence the performance of automatic fire extinguishing systems, which may cause:
Inefficiency in fighting / suppressing a fire.
Decrease in agent retention time within the environment.
Loss or waste of clean agent through unsealed passages.
Reduction in energy efficiency of equipment such as air conditioning.
SMH Sistemas® serves the entire national territory with its own highly specialized team.