Fire protection system for kitchen hoods with saponifying extinguishing agent
Professional kitchens are places that demand a complete fire protection solution. In addition to the large movement of people at a fast pace of work, there are several risk factors such as equipment operating at high temperatures, flames, use of vegetable and animal fats, among other combustible materials.
The fire can start in a small appliance or duct in one of the hoods and spread quickly throughout the environment without being noticed, causing serious disturbances.
Fire protection system for professional / industrial kitchens from SMH SISTEMAS ensures the protection of hotels, hospitals, schools, restaurants, fast food outlets, bars, cafeterias, cafes, canteens, corporate and industrial kitchens.
The system uses the saponifying agent AFFF K which combines the perfect fire extinguishing properties of a foaming agent with an optimized biological tolerance, providing ample protection, preventing the spread of fire in the first seconds of a fire.
The fire system for kitchens with saponifying agent from SMH SISTEMAS enables protection, from a simple hood to an entire kitchen, with automatic or manual activation, and can be combined with the CO2 system for the automatic protection of the exhaust ducts.
Main benefits of the fire protection system for professional kitchens:
Safe for users and the environment (99% biodegradable).
Meets the requirements of NFPA 96, NFPA 17a and National Legislation – Technical Instruction nr . 38/2019 (Fire Department).
Versatile firefighting system, allows for different configurations.
Economical fire system, does not need fire detection and alarm panels.
Possibility of operation without electricity.
Allows integration with closing of gas valves, automatic shutdown of the exhaust and closing of fire dampers.
System operation:
When activated, the discharge occurs through diffusers located in risk areas, covering hot or flammable surfaces, forming a soap gel that cools the fats, separates the fuel from the oxidant and prevents the escape of flammable vapors.
The system can be configured only to protect the hoods with a saponifying extinguishing agent or in conjunction with the Carbon Dioxide (CO2) fire suppression system to extinguish fire in the hoods' exhaust ducts.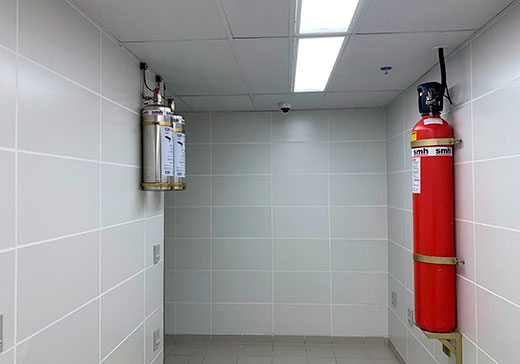 SMH Sistemas® serves the entire national territory with its own highly specialized team.